we're frustrated...
We're frustrated with waiting rooms, intake forms, and leaving the doctor's office feeling more alone and confused than when we went in. But we're not alone. We've never had a better opportunity to demand more caring out of our healthcare. We crave more personal connections with our providers, and we want to advocate for our own health…all aspects of it. Modern healthcare is inconvenient and impersonal. It operates in a vacuum instead of working hand-in-hand with our lifestyle. Doctors can't look at our genes, our fitness routines, or how we eat. Our health data is scattered and fragmented because there's no standardization. The divide between patients and medical professionals has never been so wide, and it's only going to get worse. Are we really getting the best care and treatment options when there's an obvious disconnect? We look at mobile banking, ride-sharing, and meal-kit delivery services and think, "Wow, healthcare still lives in the dark ages!" It's time for a change.
"It's a struggle to figure out what doctors are covered by my current insurance plan (*my plans change all the time). Setting up an appointment means playing an annoying game of phone tag." Ray
"I wish I could explore with my doctor more general and holistic discussions pertaining to my health in a relaxed setting. The healthcare system really interferes with the kind of forward-looking and preventative discussions I want with my doctor." Kim
Get the app. Join the movement. Share your story.
it's time to make a change
We want our time back. We want to give our doctors the resources to become our equal partners. We want to see the costs of our visits up front; and we want holistic care plans that incorporate fitness and nutrition for a total approach to healthy living. The only way to make healthcare live up to our demands is to empower ourselves and our medical professionals.
INvaryant™ integrates your personal health record with your healthy lifestyle. Using patented technology, we're offering a secure platform to access your complete health story. With records of all your doctor visits, lab results, and prescriptions, we've turned your many medical records into one mobile personal record that updates automatically…empowering you to become your own health advocate; and we're just getting started. We're constantly adding new features to meet the needs of your busy lifestyle.
SECURELY LINK ACCOUNTS
Share records with a significant other, relatives, and dependents.
MANAGE YOUR CHILD'S HEALTH NEEDS
Know what and when to expect at your child's appointments with tools specific to children's health.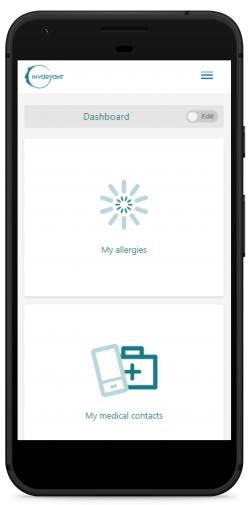 TAKE YOUR RECORD ON THE ROAD
Access your records from anywhere with a browser or smartphone.
AUTOMATICALLY SYNC NEW RECORDS
Save logins for your patient portals. INvaryant will add future records automatically.
Become your own health advocate and join us in taking the first step on a journey to free ourselves from provider gridlock.
INvaryant. the app. the movement.
We're helping our members become the most equipped and informed patients the world has ever seen, but we refuse to stop there. We're taking this beyond personal health records. We're revolutionizing an industry together.
The healthcare that we're building is consumer-driven. No more waiting rooms, no more intake forms, and no more unnecessary tests. Scheduling appointments should be as simple as clicking a button, and owning our health data should be just as uncomplicated. We're telling healthcare to ditch the fax machines and join us in the 21st century.
This future we demand starts with empowered patients. It starts with you. So, we're learning to ask our doctors questions, and we're filling in the gaps by tackling health as a total lifestyle approach. We're taking this journey together to give future generations a healthcare system unlike anything that's ever existed. So, the question is: are you ready to change the way we do healthcare?